Discover more from ROCK PAPER RADIO
a weekly dispatch for misfits & unlikely optimists
"Is that white guy looking at me strangely?"
grocery shopping and hope in the era of Kung Flu
ROCK PAPER RADIO is a dispatch for misfits & unlikely optimists by your favorite hapa haole, beet-pickling, public radio nerd. It's a weekly email newsletter that shares three curiosities every Thursday - something to hold on to, something to read, and something to listen to. Themes will include but will not be limited to: lesbian birds, rebel violinists, and cake. Tell all your friends/enemies/rescue dogs.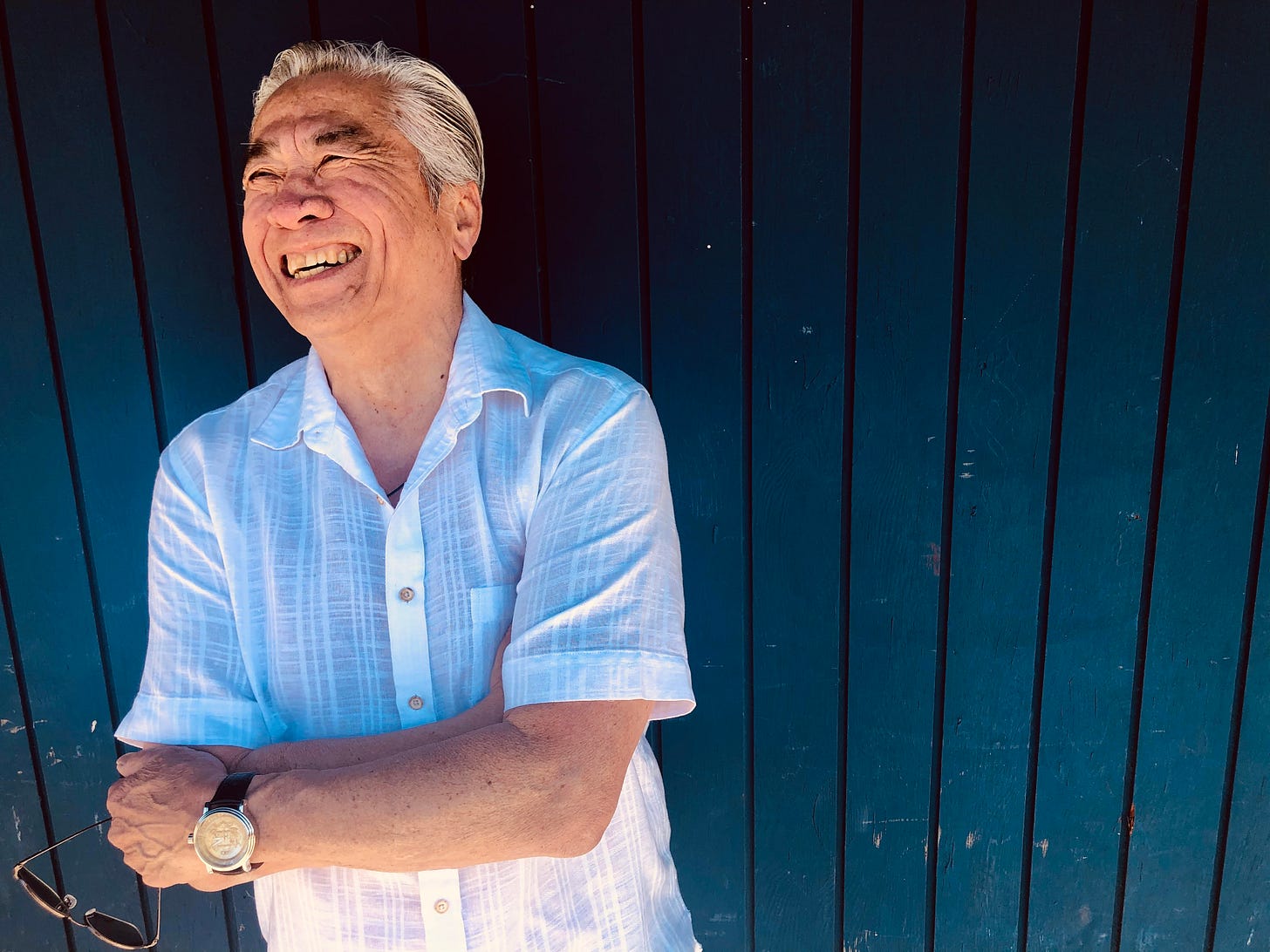 That's my old Chinese dad, Gregg Leong. I took this photo a couple weeks ago in Seattle, July 2020. For more photos of people laughing and other scandalous images, find me on Instagram
@leongstagram
.
SOMETHING TO LISTEN TO
My audio production is staying close to home these days, like all of us in coronavirus lockdown reveling in our introversion/barely managing our terror. This has been an unexpected gift of 2020.
What that means is that I'm doing a lot more talking with my family lately, including my dad, who is nuts and loud and unstoppably sentimental in a grouchy old Chinese guy kind of way.
In this 6 min audio feature, 'Is that white guy looking at me strangely?' Grocery shopping & hope in the year of Kung Flu, my dad takes us on a JOURNEY—first to his Hawaiian homeland where (spoiler: this is not true) racism doesn't exist, then to the streets of the #BLM uprising, then to the grocery store. In an emotional twist at 4.05 that I saw coming but you probably did not, when asked about his fears moving forward from this bizarre and historic moment, he tells me that he's not afraid for America or for himself. He says he's afraid for me.
SOMETHING TO READ
Just FYI, racism was not solved last month, even though Reformation announced on Instagram that they will add at least one (1) Black person to their leadership team, and a white woman's book about fragility has topped all the antiracist must read lists.
Justice and peace are still a long ways away, especially for Black boys in America.
If you're reading the fragility book (or even if you're never planning on reading the fragility book) read this too by the unmatched Kiese Laymon: City Summer, Country Summer: A photographer and a writer separately explore black boyhood and the season. The photos by Andre D. Wagner are gorgeous and staggering, and Laymon's words will crush you.
SOMETHING TO HOLD ON TO
Are you feeling a little rough around the edges? Riddled with insomnia and anxiety no sourdough baking can soothe? Perhaps you'd like to roll into the fetal position and become a small thing someone might pick up and assure that everything is going to be okay.
There's a jellyfish, an immortal jellyfish in fact, that does exactly this when it's in danger. According to Professor Rebecca R. Helm who runs the only Twitter account you need to follow in these uncertain times, when this magical and ancient creature is hurt, it "curls into a ball and transforms into a younger version of itself" like a "LITERAL BABY." Let's all take note.
NEWSLETTER #1: DONE
That's it, friends. Thanks for listening/reading/holding on. And thanks too for subscribing and sharing. This newsletter is new so my appreciation for all of you signing up and spreading the word is especially ferocious.
See you next Thursday.
K.